Our Top Alternate Ways to Use Butter
Our Top Alternate Ways to Use Butter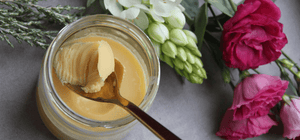 Butter isn't only delicious on toast. It is actually one of the most versatile things you have in your kitchen. Our Machika team researched the best alternative ways to use butter that don't involve any cooking. Here it is:
BUTTER YOUR CHEESES

Have left over cheese from your cheeseboard? No problem, give your semi-hard cheeses a light coat of butter and it will stay mold-free for longer. Everytime you want to use your cheeses, simply cut the buttered edge and enjoy. 

BUTTER YOUR KNIVES

If you need to cut sticky foods, butter your knives beforehand. Your knife will slide right through the food leaving a clean cut. This works great for dates, figs, or even some marshmallows. The butter will lubricate the knife and keep these foods from sticking. 

BUTTER YOUR DOORS

Butter makes an extremely good lubricant, even for squeaky doors. Simply grab a bit of butter and rub it on the hinges of your door. This will stop the squeaky metal from sounding as loud. 

BUTTER YOUR HAIR (if you got gum in it)

Do not even think about cutting your hair if you got gum in it. Simply grab some of your trusty butter and rub it all over the gum. Let it rest for a minute or two and try sliding the gum out. It should slide out easily.

BUTTER YOUR FINGERS

If you are dealing with some stubborn rings, cover your finger with butter and slide it out. It should make the stubborn ring pop out almost immediately. Just make sure to butter it thoroughly.